"New World Spectacle" is a brand new international performance art event and exhibition that takes place at the Center of contemporary art Pispala – Tampere, Finland. New World Spectacle brings together artists from Finland, Estonia, Denmark and Germany.
Performance art offers amazing and unique opportunities to the artists and the audience – people become part of the creative process and in that way enhance the quality of the artists actions. A performance art event is a place to find a spring of inspiration and a real break from everyday reality.
New World Spectacle gives an opportunity to create and experience the disappearing art in the context of "new world".
World Spectacle intends to refresh our senses and curiosity by looking for a new format of presentation.
The Artists/Groups chosen for this event represent a new, experimental and playful way that tries to leave the old "white cube" – academia art world concepts of representation behind. Art that can leave you spellbound or even shocked and enlightened at the same time.
The first annual performance art event turns it`s focus towards Estonia – Finland`s southern neighbor – which despite of it`s small population and soviet past, has a well developed and unique performance art representation.
The peculiarities of south-western Estonian Anarchism" (09.08.-29.08. Opening 09.08 @17:00) exhibition is curated by Janno Bergmann (Est). Artists include: Billeneeve, Andrus Joonas, Tanel Saar, Siram, Sorge, Rauno Teider, Ville-Karel Viirelaid, Art Container group, Cnopt group, Rubens group, Circus-art-theater Giraffe With The Burning Neck.
Live art event (09.08.-11.08.) : Circus-Art-Theater Giraffe with the Burning Neck (Estonia), GOGO TRASH/CENTRIFUGA(Berlin), Noolegrupp (Estonia), Billeneeve (Estonia), Margus Sorge Tiitsmaa (Estonia), Kaarel Kütas (Estonia), Sleeptherapists (Denmark), J.K. Ihalainen (Finland), Roi Vaara (Finland).
ARTISTS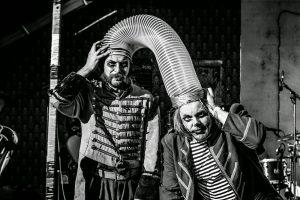 The performance art group Giraffe with the Burning Neck is a massive collective of multi talented artists who describe themselves as a circus-art-theater.  Their act does not leave anyone cold. Circus-art-theater sacrifices the rules of modern art and culture with the help of slapstick humor and conceptual performances. This group is fun and does not lack self irony. We can promise you clowns, mermaids, bearded ladies, grotesque props pointing out the peculiarities of life. Most of the group have degrees in fine art. (http://tsirkus.weebly.com)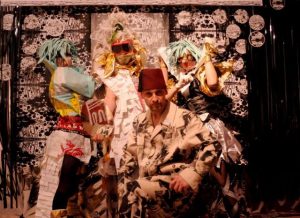 GO GO TRASH/CENTRIFUGA (Germany)- Straight from the streets of Berlin – a fusion between nature and trash. A provocative and otherworldly techno tribe that stretches the mind`s ability to comprehend.  (http://gogotrash.org/ http://centrifuga.de)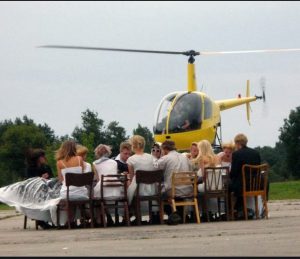 "Noolegrupp" or "Arrow group" is also an Estonian based group of fine artists: Triinu Jürves (1974) and Villem Jahu (1985). Their artworks are installations or performative environments, which are inspired by giving visual shape to an abstract- or spontaneous  idea. The group uses often the means of video- and sound art. The artworks are interactive, space specific and in dialogue with the public space. (noolegrupp.blogspot.com)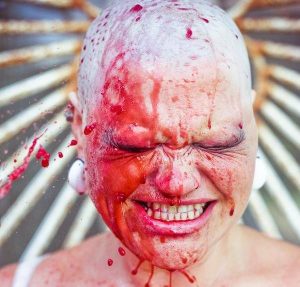 Billeneeve (Estonia) is a fine artist, poet and haute couture designer – colorful and expressive. Her artworks often concentrate on beauty, pain, discomfort and cringe. She creates living sculptures with her outfits and bigger than life persona. (https://www.facebook.com/pages/category/Fictional-Character/Billeneeve-734095460008557/)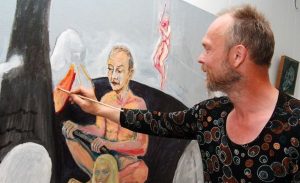 Margus Sorge Tiitsmaa (Estonia) is an art educator and the grand old man of Estonian performance art tradition. (https://www.youtube.com/watch?v=S2PBgxfzlKs)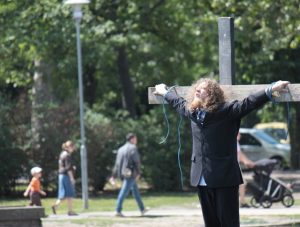 Kaarel Kütas (Estonia) is an ex border guard and a militarist, turned into master of fine arts. He is a person with an extraordinary social nerve. (https://kaarelkytas.weebly.com/)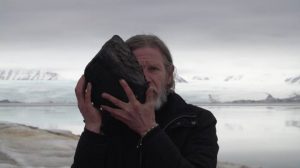 Roi Vaara (Finland)
Finland`s most well known  performance artist and  Ars Fennica prize winner.
(https://fi.wikipedia.org/wiki/Roi_Vaara)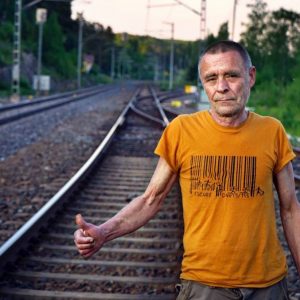 J. K. Ihalainen (Finland) Legendary poet and  Eino Leino`s  Prize laureate.
(https://www.facebook.com/JK-Ihalainen-28497779483/)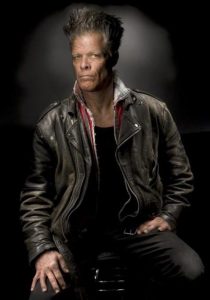 Steve Vanoni (California)- American artists from Tallinn, Kalamaja. Art instructor, actor, DJ, musician and a living legend.
https://stevevanoniperformanceartandart.weebly.com/
ORGANIZERS
The organizers of the New World Spectacle are: NWS Team in collaboration with  Pispalan Kultuuriyhdistys Ry (Pispala`s Cultural society association).
The main organizers – Ville Karel and Philip are internationally experienced artists and performance art enthusiasts with thorough experience in the field of modern art. Their goal is to organize a high level event, that could speak to an experienced performance art audience, newcomers to this field as well as local people from the neighborhood.
Both curators are experienced culture creators and event organizers. Ville Karel has been a part of organizing team of Diverse Universe performance art festival as well as Pärnu Video-& Film festival and Printmaking In festival in Estonia. Philip has been integral part of establishing and organizing Performanssifiesta in Tampere.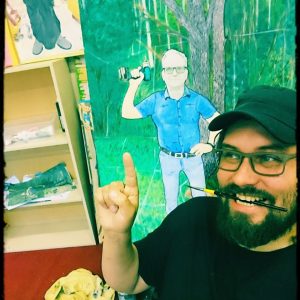 Ville Karel Viirelaid
Website: http://ville-karel.wiirelaid.com
Contact: villekarel@wiirelaid.com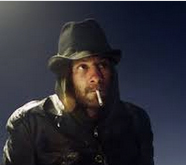 Philip Luddite Pedersen
Contact:
philipluddite@gmail.com
WHY PERFORMANCE ART?
The decline of Performance Art – on the way down from the mountaintop
I started to work with the medium of Performance art about a decade ago, at first as a performing artist and gradually as an organizer of events and festivals.  In the year 2006 happened a noticeable rise in performance art activity, in Finland as well as through Europe and the world.
Events such as LaBaz in Helsinki, Perfo! in Pori and Performanssfiesta in Tampere were organized annually. These forums gave a thorough representation of artists from Finland, Sweden and the Baltic countries, gradually also the wider international field with performers from the USA, central Europe and Asia. For a substantial part these festivals were funded through cultural grants and non profit oriented, often unable to pay salaries to artists and workers behind the stage.
Interest of the audience/public was exceptionally high and kept growing, as well as individual performers started to appear in greater numbers. A high tide in this internationally small group of artists and often forgotten medium of art. The top point of this development was about 2013, from when it slowly declined into a relative disappearance, with far lesser events then ever before.The reason fort this often being lack of funding, not creativity. It is noticeable how the culture politics have changed it`s course.
To counteract this trend, it is of great importance to resurrect and activate the performative arts field in the widest and most effective sense. New World Spectacle intends to refresh our senses and curiosity by looking for a new format of presentation.
The Artists/Groups chosen for this event represent a new, experimental and playful way that tries to leave the old "white cube" – academia art world concepts of representation behind.  Art that can leave you spellbound or even shocked and enlightened at the same time.
There is an obvious need for international artists to be represented. In that way, much what is happening elsewhere can reach a Finish audience, which otherwise would stay ignorant about what happens in the rest of the world, based on Finland's remoteness, not it`s curiosity.
Philip Luddite
PISPALA , December 2018
EXHIBITION "The pequliarities of south-western Estonian anarchism"
The New World Spectacle`s exhibition focuses on the Estonian performance art scene.
"Estonia is a very small country and you might think that there is no room here for more than one school of artists. But there is. This exhibition introduces contemporary art by the Pärnu school.
"Southwest Estonian anarchism" is not an official term – it was coined in a rather random situation by art historian and curator Eha Komissarov. Yet, it is perfect to describe the Pärnu school of artists, being essentially logical and at the same time an intriguing brand.
Pärnu, a town known as a holiday resort, is located precisely in southwest Estonia. In the present context, anarchism does not entail a political position; rather, the definition points to the activity of the Pärnu school of artists outside the hierarchies and established traditions of the art world.
This art phenomenon in Pärnu, which burned brightly and ended quickly, has left behind several independent professional artists with an individual creative approach. Together they form the core of the Pärnu art scene. 
Most of them are also active in other places in Estonia and abroad, yet a turbulent artistic youth spent in Pärnu has left a permanent imprint on all of them, whether they admit it or not.
Looking from the outside, we may not even find any common traits among the members of the southwest Estonian anarchist school, but they are essentially held together by their sense of the performance: art is seen as a process rather than diligently striving towards a fixed goal. Performance often also represents the subject of their work – whether in painting, printmaking, sculpture, installation and photography, as well as, of course, video art.
In the Estonian art scene, which is currently conducted from Tallinn, the anarchists of southwest Estonia are still seen as a bunch of weird outsiders. Indeed, they may occasionally pack a surprisingly strong punch, but they are still not fully welcome among the major players…"
The exhibition is open for three weeks (09.08.- 29.08. 2019) and the entrance is free of charge. The gallery times are from Tuesday to Sunday 14-19.
WELCOME!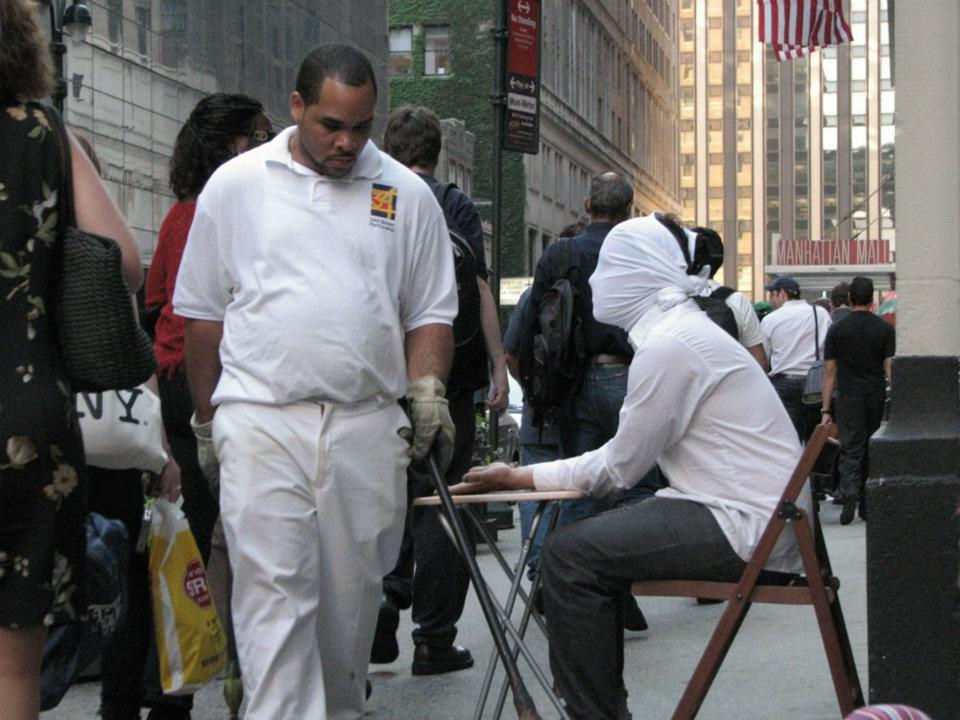 Ville-Karel Viirelaid "Stigma" New York 2007
SUPPORTERS